Is China a Nuclear Threat?
Yes, they have indeed made thousands of nuclear missiles and copied several long range balistic nuclear missiles the USA has.
They have 47 nuclear submarines. Stealth nuclear bombers. The list goes on. The Chinese are a greater threat with nuclear weapons than Russia is.
In 2005 China warned the USA that if we defended Taiwan against China they would use nuclear weapons.
http://www.rediff.com/news/2005/jul/15nuke.htm
Thanks to Clinton he authorized the sale of super computers to be used in Nuclear facilities to the Chinese to build nuclear weapons that are highly accurate. His buddy at the NSA approved it as well. To a communist country? Yep, they sold them with no regard to the safety of this Nation.
Documents included below showing proof.
http://www.softwar.net/cpu235.html
Notice how Obama tries to get the START program going with Russia, but not with China. China would have more nuclear missiles that we would if we only had 1,500. China has over 8,000 nuclear missiles now and growing. We had 15,000 nukes, Russia has 30,000 nukes. China has our missile defense system (copied and reverse engineered and or sold to them) so our 250 nukes pointed at china may not get to their targets, so we need more pointed at them. haha. Seriously, we are deep doo doo if China keeps building nukes every year. A threat? Well, They have no value on human life. They have nukes. hmmm. That means they are not afraid to use them.
Just 7 years ago the Chinese snuck 3 nuclear bombs across the Mexican border into America and they still have not been found.
The Mexican Government contacted the US government and said (after they had already crossed) that 3 nuclear bombs were being snuck across the US border by the Chinese. This was on the news I saw in Tucson Arizona, but nobody else had it on their news. One chinese group was captured in California that had placed a nuke in California and nothing else was said about that case. Another group was headed towards New York and the other Boston. The two other groups were not captured or any other news said about them after. In the 1970's the Government did a think tank on just this type of scenario on both Russia and China smuggling nukes into the USA and did nothing about it. Think we have a problem?
http://www.topsecretwriters.com/2010/11 ... to-the-us/
Russian documents after the fall of Russia showed they too had smuggled atomic bombs into the USA during the 70's and the locations were scanned and picked over by US military to find the bombs, which some were found and others were not as they might have not been planted yet. Most were small bombs planted near the edge of large dams and power plants. They were all set to go off remotely via satellite from Russian soil.
Suitcase nukes that Russia made were sold off after Russia fell, but the Chinese also have been making them.
Oct 3, 2010, US in panic after nuclear bomb is smuggled from Mexico into the USA. Notice on other websites they say Al Qaeda and not chinese.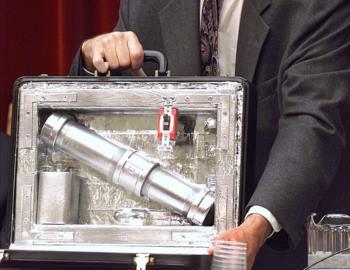 From world net daily news:October 3, 2010
This report further states that after the discovery of these nuclear isotopes the Americans were able to trace its passage from Arizona to its east coast southern regions along what they call their Interstate 20 Corridor, and where in an attempt to avert a terrorist disaster they deployed one of their Z Backscatter Vans (ZBV's) [photo 2nd left] causing a massive roadblock in an attempt to find what they believe may very well be an atomic bomb device.
The type of atomic bomb device the American's are attempting to find, this report continues, is a Soviet made Special Atomic Demolition Munitions (SADMs), otherwise known as a Nuclear Suitcase Bomb [photo bottom left], What the Media and the Government Haven't Told You" china does indeed possess and plans to use to create an "American Hiroshima".
Even more curious about these events now occurring in the United States was yesterday's arrest of Orly Azoulay, the Washington correspondent for Yedioth Ahronoth (Israel's largest and most widely read newspaper) along with her husband Howard Arenstein, a veteran reporter for the American CBS News Service, both of whom were preparing news articles on the United States massive and secret search for nuclear weapons believed now to be "in play". [Note: Orly Azoulay's website has been taken down.]
end of quote:
That makes 4 suitcase nukes then so far that have been smuggled into the USA and planted somewhere that have NOT been found.
But we don't know how many more were smuggled across and where they went either. Why are there backscattering vans and check points to scan semi's? They are looking for nuclear bombs that were smuggled into America without telling the American people about it.
Sure they are not the only ones who have nukes. North Korea, Iran, Russia, Pakistan, India, France, Saudi Arabia, Libya, Syria and the UK all have Nuclear weapons pointed at us as well. The UK and France may be allies, but they still have nukes pointed at us. Maybe you can ask them why. There are over 20 Countries that have Nuclear weapons. Half of them are Communist.
Just maybe those who plan on having friends or relatives over may want to invest in a bomb shelter because there is a clear and present danger of a nuclear threat to Americans. From Russia, China and all our other new enemies we made in the Iraq and Afghanistan wars.
From my point of view, Nuclear Shelters should be also on the top of the list this summer. I know I will try and make one.
After all, surviving isn't surviving unless we are living through a nuclear disaster.
This is serious stuff.