Tankless water heaters for bomb shelters or underground disaster shelters.
There are the 12 volt models, which uses a 12 volt element to heat water with from a battery and then there is the on demand hot water systems that run on 110 volt that use much more electricity. Depends on what you are using for power in your shelter.
One example of a 110 volt hot water system. (Tankless).
http://www.e-tankless.com/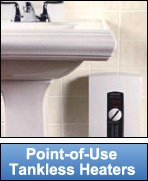 Here is a link for 12 volt, 24 volt or 48 volt hot water elements. WIll fit with any existing hot water heater.
http://www.hydrogenappliances.com/hotwater.html
Here is another site that carries the 12 volt hot water heater elements.
http://www.hydrogenappliances.com/hotwa ... 21but.html
So for what ever shelter you have you can have hot water and have the comforts of home.